Ah, Vegas. Where you go to get the Americanized Disney version of the world so you don't have to actually leave. I didn't particularly want to go on this trip, I would have rather gone to Thistle's b-day bash, since it has been forever since I've seen anybody, and people would have been there, and even longer since I'd seen the birthday boy himself. I hardly even knew anyone who was going to be there. Mum was begged by one of her best friends, the groom's father, to go, since pretty much noone else was going all the way to Vegas for it, and seeing as I have no life to speak of right now, I was included.

Sadly, I broke my new bondage trousers the day before I left, I would have liked to wear them (big boots + straps + crouching on floor + standing suddenly = seam rippage). It was nothing I couldn't fix with the sewing machine, but I just didn't feel like getting it out that late...

Friday- 19.4.02
Up early and out the door- or at least that was the theory. Tried to call a client to get something sorted before I left, but unfortunately he was not there. Ended up not making it out the door till the girl who was going to take care of the pets showed up- really nice, rather hyper, but that is a good thing dealing with the dog.

And then we drove. Oh, how we drove. Passed many an abandoned town along the way. Found a tree with shoes and shirts on it, decided to stop back later. Some people were stopped at it at the time already, and we wanted to make some more progress. I got sick to my stomach unfortunately, I can't be in a moving car and looking down- so when I attempted to read to pass some of the time I did not do so well. Got a snack in beautiful downtown Needles- one of the few towns along the way that was still inhabited. The death of the mining industry was not kind, though if they had water they would all be country clubs by now. I don't know why that has stopped them, according to the CVWD (Coachella Valley Water District), a parking lot uses exactly as much water as residences. You could put a parking lot out there already. Yes, the CVWD is on crack. It is bad crack. According to them there is no reason to attempt to conserve water, since you could decide to flood your property and turn it into a swamp and it would take just as much water as a parking lot.

Mum took a nap in the back as we got close to Vegas, but neither Dad nor I had ever been in on this freeway, only on the one from L.A. which is substantially more convenient to the strip. We got lost, or at least thought we did, since the route we took worked fine, even though there were a number of panics here and there. As for driving down the strip- I don't recommend it. But we didn't know how to get to the hotel (we were staying at the Aladdin, last time I'd been there the new one was still under construction), so that was the way to go. Parked in the back and attempted to find the lobby. Oh dear. They have planning issues, they need to direct people for check in to the front better, not tell them to go around the back. Because that means more than a half a mile walking in a huge circle around shopping to the casino, and then the signs are less than helpful to the check in desk. They were severely lacking in decent maps and signs that were actually helpful. The hotel section certainly seemed to be the least priority in actually being able to find, something that really isn't all that bright when people will be dragging their bags.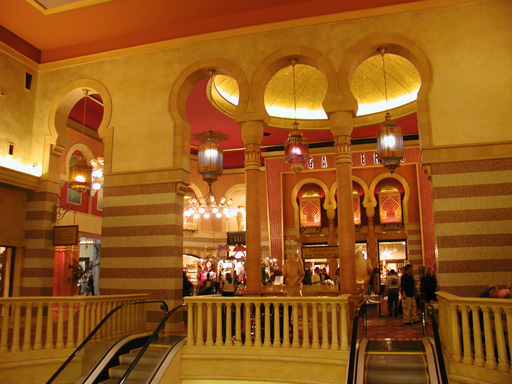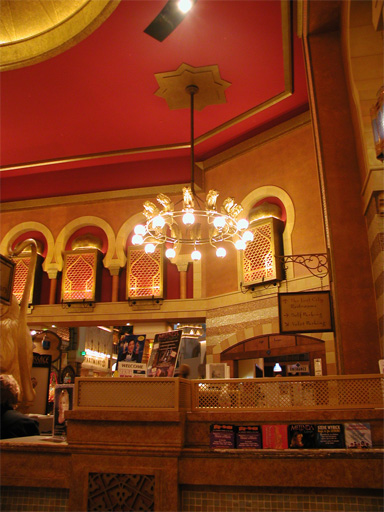 Checking in was a bit of a disaster. According to them, the travel agent (the Las Vegas Tourist Agency in this case) doesn't always bother to tell them what kind of room is wanted, in this case triple occupancy, so there was only one bed. There was no offer to change rooms (although I can assure you the hotel was far from full), they did at least "give" us a rollaway without charging extra. I was less than impressed, the boy at the desk handled it very poorly.

The room itself was pretty splendid, quite large and nice, and even included a computer with broadband! After looking everywhere to see if they charged for the net (since I couldn't believe they wouldn't, even though that would certainly have made me feel more willing to come back even after I was so unimpressed with their service, oddly enough little perks like that will encourage repeat business) I attempted to use it- only to be directed back at their very poorly set up home page, that had a link stating the terms to connect to the outside net hidden on the page for no apparent reason. It wasn't like there was anything else on the page other than a link to the Blues Brothers show, and a gateway link to the hotels spiffy things. It was, as I had surmised, not free, $9.95 for 24 hours. Now, if I were to actually be using it more than five or ten minutes, this would not be a bad deal, but seeing as I wasn't planning on spending time in the room surfing the net, I decided to pass.

Ate dinner in the shopping area at an Italian place that was pretty good. The staff was a little too perky and enthusiatic, but then again, it is Vegas. Yet another indoor outdoor ceiling in the shopping area. You know, if I had a ceiling like that, I would make it go to night with the outside, and have lamps and things all over provide light- I'd also go with something that looked a little more like natural light instead of yellow flourescents as well. There is an area with water for a mini dock type thing, and on the hour/half hour it rains over that are. The number of people who stood around to watch water fall from the sky...and the number of people from whom I heard the exact same words, "Its raining, inside!"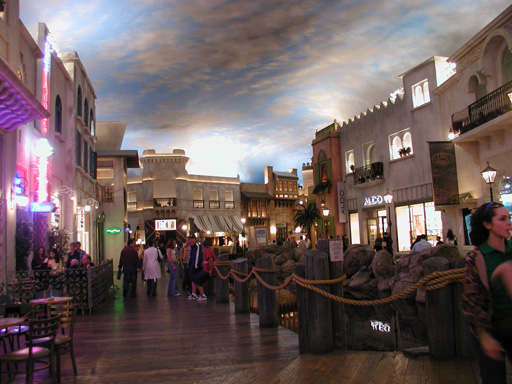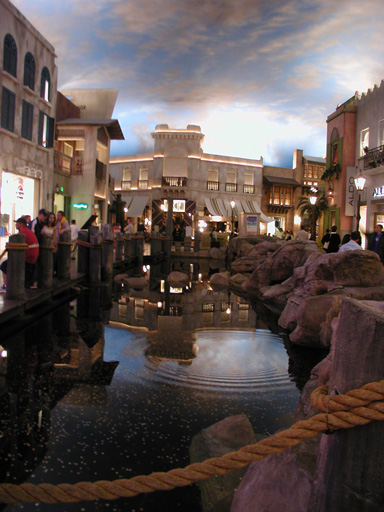 Wandered around the shopping, and found a lovely lovely black glass necklace at the Metropolitan Museum Store, and a rather nice silver ankh at the Discovery Store. In one of the empty storefronts there was a Betsey Johnson display (finally moved from the mall at the other end, which is an under construction wreck right now, as well as having lost almost everything interesting it once contained) with the fabulous dress with pink chiffon leopard print over a poofy tulle skirt with pointy bits. Mind you, once I get to the Betsey Johnson I find out that this dress does not actually exist- the poofy tulle was pinned to the dress form, the dress itself was also pinned here and there to make the skirt that was actually attached to it shorter...it was quite disappointing, but probably just as well, seeing as I don't really see myself in pink chiffon leopard print.

Some of the stores didn't really go far out of their way to fit the theme, and some only had decoartive metalwork, but a few did go the extra mile. For instance, the Lucky Brand store had its very own Buddah.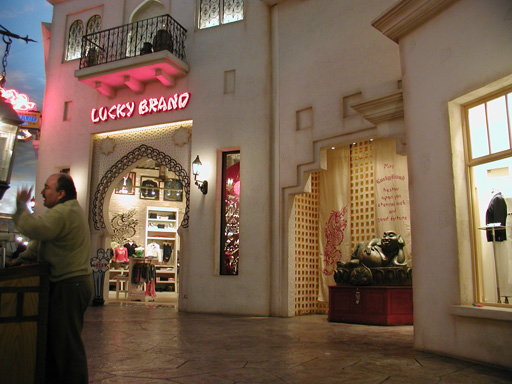 I had decided a few days before to try to draw at least once thing a day, and finish it- not just rough sketches. The thing I drew that night was nothing like I originally intended, and came out rather odd, I don't know whether I shall ink it or not. It was, however, the last night I succeeded in my endevour, Saturday night I only got bits of things, and Sunday night I didn't end up drawing at all.

At about midnight I had to head back down around to the car because my toothbrush and toothpaste hadn't made it to the hotel. Shops were already closed by the time I got there a bit before midnight, which I found strange, seeing as there were still a lot of people up and about, and not all of them were gambling. A lot of the closed gates for doors, in keeping with the theme, were quite attractive though. And I got to watch them vaccuum the munkay lights: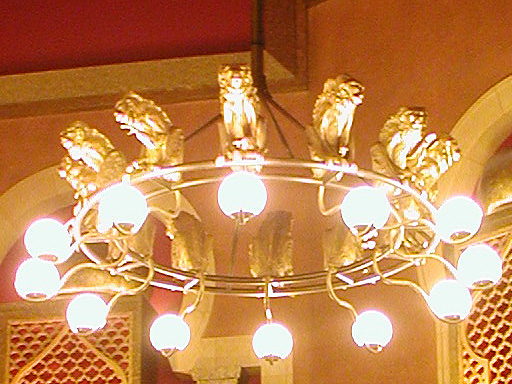 On the way back some man asked me if I knew the way to the casino, and since I was already walking that way...he started talking about going to Spain (since the hotel did look a lot like Moorish Spain) and asked how the hotel was, since he was in the hospitality business, and I gave him a somewhat skathing review- told him how poor the service was, but I did tell him the room was quite nice. After we reached the casino he asked if I wanted to have a drink with him, I begged off early morning, wedding, etc. He didn't particularly want to take no as an answer. Did he really want me to tell him that I didn't want a drink, I certainly didn't want a drink with someone I didn't know, he didn't have interesting hair/clothing/footwear and I doubted we would have anything in common besides perhaps a couple of travelling stories, and there was no way in hell he would get me drunk enough I would consider sleeping with him?

Saturday- 20.9.02
The rollaway was better sleeping than normal rollaways, it was like an actual *bed* for a change. I still didn't sleep particularly well, but then, I don't. There appears to be no breakfast food aside from the buffet and Starbucks in Aladdin, so we went over to Paris for breakfast pastries. Drove down to Luxor since it was next to the Madalay Bay, where the wedding was going to be, and figured out how to deal with traffic and where to park and all. Looked around Luxor. Luxor just keeps getting more disappointing. The gift shops have gotten tackier, with less cool Egyptian stuff, and I never have forgiven them for taking the river out, it was kick ass. Made the entire casino a lot more cohesive too. I think the Ancient Egyptians would have rather liked the Luxor with the tackiness and fake gold stuff. They would not, however, have liked the store with the real artifacts imported from Egyptian tombs. The Ancient Romans, on the other hand, would have thought Ceasar's Palace was naked and rather stupid being all white, but they would have liked the animatronic gods, though odds are, their animatronic gods (not run with microchips, usually they ran off steam) would have been kept in better condition, last time I saw them they were getting a tad run down.

Back to the Aladdin for lunch at the food court, and then was getting ready for the wedding. The only really presentable dress I could find, the red chinese dress that used to belong to mum, hair up, stockings (which ended up being black, which wasn't actually intentional, but I didn't look at the package when I grabbed it), and painful shoes. I wore my boots to the car since we had to hike ridiculously. Took the back way most of the way to the Mandalay Bay, so we actually moved some and weren't just stopped still on the strip. I didn't grab my sunglasses, which was a mistake, assuming it would all be inside. Once we got inside, we had to find the chapel- which of course wasn't on any map. Got directions for the shoe shine man. Got directions from the people at the will call desk. Wandered around outside both directions until we finally did find it.

There was a bridal party standing around outside, and neither of my parents really knew what the groom would look like since it had been so long. Turns out, that was not them, they were already in the chapel in the middle of the ceremony. The minister was very bizarre, and rambled on about not losing sight of each other in the acquisition of things and always caring about each other and blah blah blah. We got there late and it was still a pointlessly long ceremony. Finally they were married, and the minister ran off, the photographer ran back in, and started assembling pictures. First the bride's parents, both sets. Then the groom's mother and her husband, and the groom's father. Then the bride's family, which consisted of a number of cousins and some grandparents, and then the groom's family, which was a dizzying array of step and half siblings. If their families are any indication, I doubt this will be their only marriage, I think the grandparents of the bride were on their first, but nobody else was. Almost everyone who had been in the chapel went up for these pictures, there were very few people there not related, hardly any friends at all.

I found the whole Vegas wedding thing rather inappropriate. Everybody had to fly in, and most lived in the same area to start with, which meant that most of the friends of both sides couldn't attend. His father quite likely had to pay at least some towards his mother and her husband attending, since her husband's first wife was living with them since they couldn't pay her alimony. The chapel was ok, but quite small, and it would have been easy to find a very nice place more local. The real kicker though was that they were living in her parent's house, and off his father's money. If you're still living off your parents, I see it as rather tacky to make them go through the added expense of a posh Vegas wedding, when you could have a quite posh wedding without everyone having to stay in hotels and pay even more exorbient rates. From what little I talked to the groom, and how desperately happy he was that we were there, I have a feeling Vegas was her idea.

Turns out though that one of the bridesmaids got married just down the road at the house of someone my mother knows- who happens to be the cousin or aunt or some such of the bride as well. She was very happy to find people who she sort of indirectly knew (and who hadn't heard her stories before). Especially after all the VSR crap, this was definately a good thing.

We went off to find a place for drinks with some of the groom's family, including his stepsisters from his father's second marriage (which was, unfortunately, far too short lived. They were very suited to each other, but she unfortunately passed away soon after the marriage. Before she did, he adopted her children from her previous marriage), who both had children (or one of them had twins? I was unsure as to the ownership of them, each sister seemed to stick with one, but the stroller was a double...). This, of course, made for getting drinks difficult, seeing as we were thrown out of any of the bars they attempted to stop at, and eventually headed over to the Rum Jungle, where the dinner later was going to be. Most of the restaurant was closed, but we managed to guilt them into bringing us enough chairs. I did not have anything to drink, my father had a scotch and soda, and my mother had two. I ran out to the car to change into my boots.

Eventually they let us into the restaurant proper, and there was wine. There was also dizzying amounts of food, first on platters, later on skewers, to be passed around. 2 appetizers (fried calimari, and cucumber and tomato salad with hearts of palm and topped with two onion rings and two very wimpy slices of avacado), 7 meat courses (and I don't believe I actually remember all of these, but there was pork sausage, bacon wrapped chicken, Black Angus steak, lamb, pork with a sweet and sour sauce and pineapple, turkey, and chicken), and 2 fish courses (rare tuna with a citrus sauce, and a firm white fish with butter), and, of course, wedding cake. Mum ran off near the beginning of the meal and talked to the groom's father, first standing, then crouching, then sitting on the floor- if I'd been able to fit it I would have taken her chair and food over there. There was altogether too much food. Dad was sitting next to someone with a daughter in high school, who was quite the party girl, and was promising to get out on the dance floor with me. Had a shot with him at the table, and then who knows how many afterwards- after the first shot he turned to me and asked "if I pass out, you'll help mom get me out to the car, won't you?" and yet, he still kept drinking. Mum was also rather smashed, which mostly exhibited itself through talking far too loud, repeating the same stories over and over, and minutely planning my wedding (note: Vegas had no part in it). Oh, and talking about her new flooooozy shoes (voice goes up for the extended oo). Being around my friends drunk is ok, and often somewhat amusing. However, I can't say I enjoy babysitting my parents, or in fact that I had any fun at all being around the rest of the people there drunk either.

They kicked us out of the restaurant because there was another party that had the room later, it was still quite early, not even 9. I drove, of course. My father offered to drive, which considering he could hardly walk to the car was quite stupid. Parking at 9ish back at our hotel was hellish of course, that being the most popular time for people to be shuffling back and forth. I finally found a spot tucked away, and we headed into the hotel. My father was so cute when we ended up at the escalator in the parking structure that wasn't working, he couldn't understand that yes, indeed, he could still go down it under his own power. We went by the Discovery Store and bought my ankh necklace, and a couple of books, one on labyrinths, one on Ancient Egypt, on a really good sale. I snuck upstairs in the food court to the balcony, which wasn't blocked off this time at least, as it had been last time I tried. I wandered past a gate that was neither locked, nor closed, even though it was obviously not someplace I was supposed to be, and walked along quite a bit of the balcony. The flourescent uplighting for some of that was part of the clue that I wasn't supposed to be there (and so were the wires and open electrical plates, but the gate was open!). Unfortunately I didn't have the camera with me. I could have gone even further behind the facade to a room behind the walls, but it looked terribly uninteresting, so I went over to watch the rest of an acrobatic troupe from the "legit" section.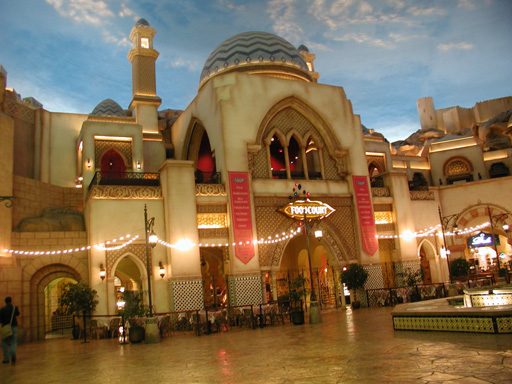 Upon getting back to the room they both fell asleep, and I took the camera and headed back down to the shopping area. Unfortunately, by the time I got back to the food court it was all closed up, so I couldn't take pictures of the balcony. I did, however, take a few pictures from the ground anyway. I do not really make a good human tripod, and things were generally far enough away that the flash was ineffective, but things turned out rather ok for the most part.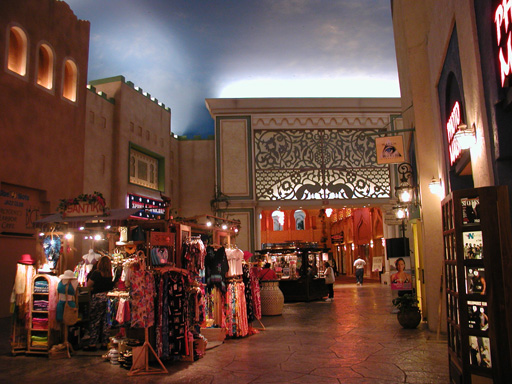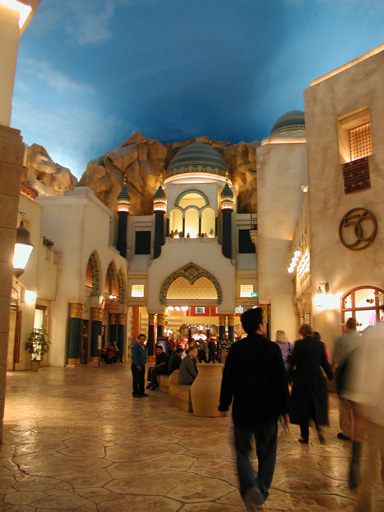 Everything closed around 11, I grabbed a couple of cookies just as the cookie place was closing its doors. I eventually headed back upstairs, and went to bed.

Sunday- 21.9.02
Got up far too early for the shops, which is probably just as well, since it saved me from agonizing over the necklace in the Met. Ate at Paris again, and then gathered all our stuff up. Figured out that it was possible to get the car somewhere more convenient, it just helped knowing the layout of the hotel. Mum went off to get the car, dad went up to grab the rest of the bags, and I stayed with what we'd already gotten down. She took forever and I was starting to worry. She had quite a ways to walk, but it occured to me that she was drunk when I parked the car, and even when you aren't drunk, if you didn't drive it you can't always find it. So I started walking off to see if I could see her and ran into her. She was on the right floor, and looked everywhere but where the car was, it was tucked away in an odd little corner. She'd gone to all the other levels thinking she hadn't known where it was.

Driving down the strip on Sunday morning isn't so bad actually. None of the stores were open yet, and most of the people were probably still asleep and/or nursing hangovers. Went to the mall at the other end of the strip to see if they had any boot stores, and not only did nothing it in open until noon, even though there were a number of people wandering around inside before 10, but there were also no boot stores anyway, so it wasn't worth waiting for. I was hungry again and we grabbed food at Jack in the Box, and we'd seen a western store that had been closed on the way over that we went back to and waited the few minutes until it opened. I was already not particularly happy because they didn't hear me when I'd said I wanted food, and all the things that mum had talked about going to there while we were still here had conviently left her mind. And we have this whole passive agressive thing going on, not only does she do the exact same thing to us, but if I mention things that she hasn't forgotten about she gets very pissy- so I never know whether to say anything or not. Ended up finally stopping for a phone book and found a place with stripper shoes in the hopes they might have interesting boots. She picked up a silver pair of shoes, because the last 5 pairs of shoes she picked up one day were part of the quest for silver shoes- and not one of them were silver.

Headed back out of town, this time for good. I fell asleep, and was groggy most of the rest of the trip after I woke up. We got to about the place with the tree with the shoes and shirts, but passed it. Dad was driving, and mum did the passive agressive thing and got mad at him when he didn't turn around but she wouldn't say anything, so I told him to turn around. We found a small tree that was set apart somewhat like the other, and thought that might have been it but they took everything down- but I thought it wasn't the right kind of tree, and we headed further back. And we found it!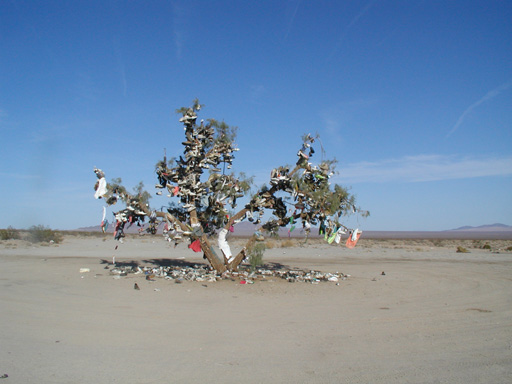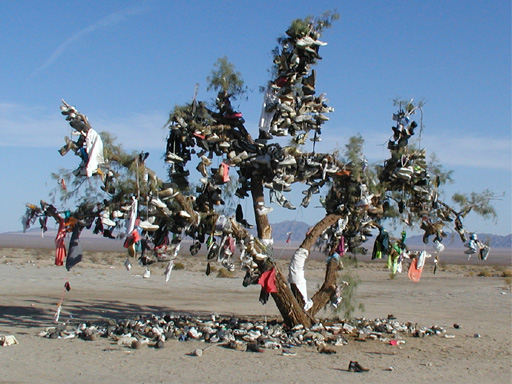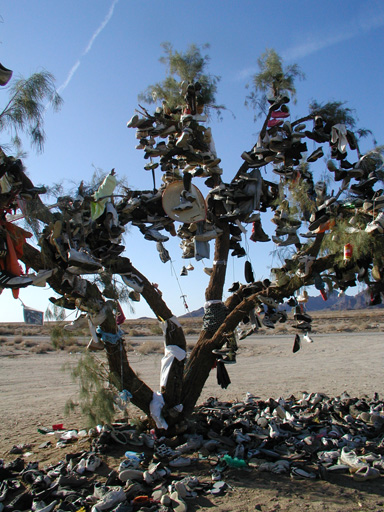 It reminded me somewhat of American Gods (which struck quite a few chords. I sort of already knew everything that was going to happen, but the fun was in the getting there) and the sacred places that random people feel the need to do things with. There were mostly shoes, but a few beer cans and empty drink cups as well, a few shirts, some underwear, and the remnants of a wide brimmed hat. A lot of the stuff was signed and dated, there were even a few bricks at the foot signed and dated. Across the street, along the railroad tracks, people had written their names in stones, as well.


Most were with the dark and light stones that were native to the area, but there was a baby blue heart with the name "Lily" inside it, one would assume that either Lily or her paramour brought a can of spraypaint with them.