D e l i r i u m ' s Page of Frogs
OMG, something new!


Written by Neil Gaiman and Directed by Dave McKean


Be still my heart.

"MIRRORMASK tells the story of Helena (Leonidas), a fifteen-year-old girl working for her family circus, who wishes-quite ironically-that she could run away from the circus and join real life. But such is not to be the case, as she finds herself on a strange journey into the Dark Lands, a fantastic landscape filled with giants, monkeybirds and dangerous sphinxes. On her quest to return home, Helena searches for the Mirrormask, an object of enormous power, which is her only hope of escaping the Dark Lands.

A dark fantasy with elements of THE DARK CRYSTAL and LABYRINTH, MIRRORMASK is a thrilling new chapter in the celebrated careers of Dave McKean and Neil Gaiman. Filled with imagination and unforgettable imagery, and fully realized with the help of CGI, MIRRORMASK is a visual and psychological menagerie of dreamscapes, nightmares and otherworldly creatures."



I'm thinking it's going to be reminiscent of Wolves in the Walls, and The Day I Swapped My Dad for Two Goldfish. And a dose of Coraline- probably a bit like some of Clive Barker's children's books too. David Lynch meets the Wizard of Oz. Yummy.



ribbit!
Silly shaped multicolored slinkies are a good thing...
Mine is helping keep my sanity, or lack thereof, intact.

Well, here it is, at long last, my web page. I know you've all been waiting in breathless antici...pation. And if you got that reference, you get a cookie. Is it made from real girl scouts?

My frog ribbits jingle bells

If you can read this page, you need glasses. But then again, talking to me is just as confusing for those still handicapped by their sanity.

This little man with a BIG mallet snuck up behind me
last night and whacked me on the back of the head.
That woke up his little friends inside my head
with BIGGER mallets who then tried to break through my skull.
And they've calmed down now,
now they've ditched the mallets and are just pounding with their fists....

I'm currently going to Vassar College, until I find something better to do (or then again, maybe I'm not. But you'll never know!). The guy who started it all wasn't much to look at, true, but hey, he's got a cool hat. Would you like to know more about the school? If so, come join me and my friends on a romp though Vassar Campus. We're all mad here. I'm mad, you're mad. You must be, or you wouldn't have come here.

I'm confuzzed.....

And now, for your occular enjoyment, some icons and other stuff I've made, because I am a queen of procrastination. How do you think I learned so much about computers? And talking about computers, meet mine....

I'm not paranoid. I'm persecuted.
No no, I'm paranoid.




Would you like to meet my family? I'm sure you've already met them all, you just may not know it yet... Oh, and here's a story about me while we're at it.

Thou hast been tangerine to other gods

Do you wants to see my gallery? It's really cool, you do wanna, really you do.... Trust me, you'll hate yourself if you miss it... Or maybe I'll hate you, and that's even worse...

We have no noses!

You think I'm not me, don't you? But I am me, really. There are other people who think they're me, but they know, in their heads, that they aren't me. Even some boys think they're me. But I'm me. Usually I'm apart, but sometimes I'm together... And when I'm together...its not nice...it hurts... But I can do it when I need to, just ask Destiny... I used to be together all the time, but that was a long time ago, and its not anymore...

You steal the cat's food, you silly-walking,
ear wax genuflecting, frog nibbling, unacknowledged
bastard of an exotic pet store captive.


My page was being naughty, so the links had to go sit in a corner. Go visit them, they're lonely.




This is my adopted fairy baby, Uvita
Adopt your own!
Or meet my other fairy


Yes, I know that's annoying blinky text, but I just had to use it at least once...

And here's something that's actually important!



Oooo, and check out all the ribbon silliness!
Ha ha! I have now joined a webring! Be very very proud of me!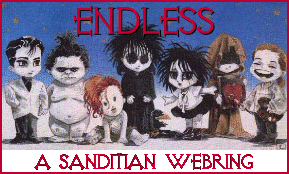 This ENDLESS site is owned by Del
Would you like to join ENDLESS - A SANDMAN WEBRING?
[Prev] [Next] [Random] [Next 5] [List Sites]


Ooooo, and another one too, aren't I special?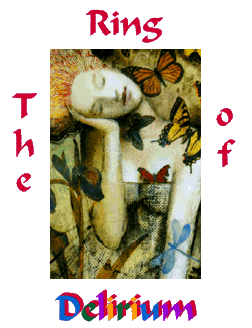 Goodness! Look at this! I won an award!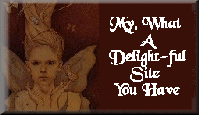 Oh! And another!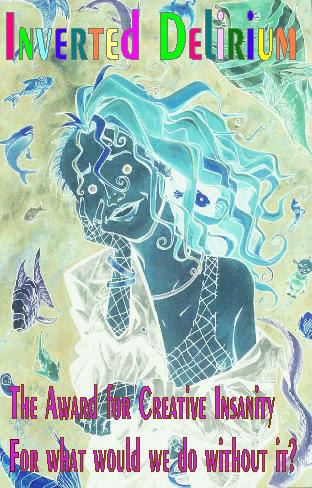 You are person number



to hit my page.
STOP IT! You're hurting him!

Check out my form-type guestbook... I wanna know all about you and ask you all sorts of weird questions... C'mon, pleeeease? With sugar on top? I'll love you forever... C'mon, do it, everyone else is, you know you want to... Oooo, and its even fixed now, aren't you proud of me?

See the people who have passed before you into the great unknown...

And if you like all this silliness, feel free to e-mail me at fltrover@vaxsar.vassar.edu, and you can listen to me rant with paranoia. Or you can just finger me (doesn't that sound awfully dirty?), and find my plan file that will take over the VAX someday, I swear it!

And if you want to make me happy, just e-mail me and tell me how the hell you got here!


Go Back to the Beginning